Gum Problems Treatment at
Dental Clinic Indore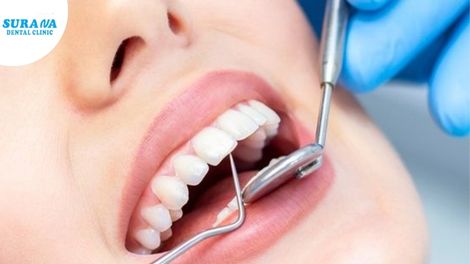 Teeth Problems Nowadays Are Very Common, Some of Which Are Harder to Treat Than Others. You Heard About Cavities Attack Very Easily Due to an Unhealthy Diet. If We Talk About Gum Disease Treatments as One of Our Key Dental Treatments Here at Surana Dental Clinic Provides the Best Practice for Dental Clinic Indore. Ideally, You'll Want to Spot It Before It Requires Specialised Care. So That You Can Be Alert When Brushing Your Teeth, This Week We're Spotlighting Some of the Major Risk Factors for Gum Disease.
Unhealthy Diet and Nutrition
Diet Is Very Important When It Comes to Making Sure You're All Body Has All the Important Nutrients When It Comes to Fighting Off Threats & Viruses to the Immune System. as Gum Disease Starts as an Infection in the Mouth, Poor Nutrition Can Rapidly the Infection. to Prevent This, It's Worth Ensuring You Have a Varied Diet, Eating Plenty of Fruit and Vegetables, and Avoiding Foods and Drinks High in Sugar. Dental Clinic Indore Provide Proper Guidance by Following a Healthy Diet and Drinking Plenty of Water Along with Regular Exercise, You Can Help Your Immune System to Fight Off Any Infections Before They Have a Chance to Attack.
Need  Medication for Healthy 
If You Take Any Medications, Especially Antidepressants and Heart Medications, It May Be Helpful to Discover If They Can Have an Impact on Your Oral Health. as a Result of Some of These Adverse Effects, Bacteria That Would Normally Be Wiped Away from Your Tongue and Gums Stays There for a Longer Period of Time. If You Suspect That Your Medication Could Be Contributing to Periodontal Disease, Then You Can Speak to One of Our Dentists at Surana Dental Clinic, Who Will Be Happy to Advise You on How to Manage it.
It may be beneficial to learn whether any medications you take, especially heart medications and antidepressants, could affect your oral health. Some of these negative effects cause bacteria that would typically be removed from your tongue and gums to remain there for longer. Speak with one of our dentists at Surana Dental Clinic if you believe that your medication may be causing periodontal disease. They will be happy to provide you with advice on how to manage the situation.