Finding a competent dental & best Dentist in Indore Vijay Nagar with excellent skills and a thorough understanding of his responsibilities might be challenging. The majority of dental surgeons have little to no knowledge of the most recent dental surgical techniques. One would never choose to work with a dental surgeon who is ineffective and lacks compassion.
It takes more than just routine brushing, flossing, and mouthwash to take good care of your teeth. In order to ensure that your dental health is being checked in every respect, good oral hygiene also includes routine dental check-ups.
We have been learning about dental care from our elders since we were young, and it is important. Inattention to dental care can seriously harm your teeth and land you in the dentist's chair. Surana Dental Clinic, the best Dentist in Indore Vijay Nagar is a medical value provider made up of a team of specialists that makes it simple to get the greatest dental treatment at reasonable prices.
The top Dentist in Indore Vijay Nagar Surana Dental Clinic. Uniquely situated on Satya Sai Chouraha's main A.B. Road in Indore (M.P)
At the Surana Dental Clinic, all procedures are carried out under the supervision of highly skilled MDS specialists in a clean atmosphere in accordance with accepted international standards. It has the most recent and cutting-edge dental technologies.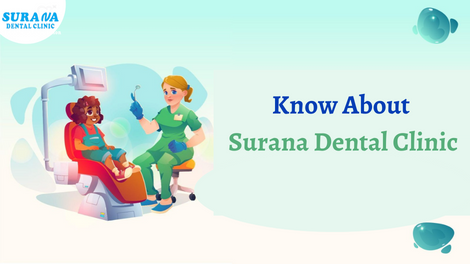 Our office prioritizes your comfort by offering calm sitting and painless dental procedures. Each patient receives a unique treatment plan from our professionals that are based on their comfort level and financial capabilities. The treatment is frequently started after a thorough oral examination that identifies any current or potential dental issues.
Many Indian hospitals and clinics have become extremely well-known throughout the world for giving economical, high-quality care to foreign patients.  Surana Dental Clinic, a Dentist in Indore Vijay Nagar operates under the same principles and offers top-notch dental surgery to foreign patients.
Surana Dental Clinic, a Dentist in Indore Vijay Nagar offers a superb group of internationally renowned dentists that specialize in everything from orthodontics and aesthetic dentistry to general dentistry. These hospitals use top-notch equipment that produces exceptional results.
Additionally, they offer a wide spectrum of treatments to improve their patients' smiles, oral health, and dental aesthetics. As part of their commitment to offering high-quality services, these institutions regularly update their staff, equipment, and treatment methods in order to give their customers result-driven, painless dental care.
Surana Dental Clinic offers top-notch dental care, a relaxing environment, open communication, and a welcoming support team, all of which contribute to long-lasting relationships with their patients.
The following qualities of Surana Dental Clinic make it the world's preferred location for dental clinic:
All types of smile flaws, illnesses, and disorders can be treated at one dental office.
Surana Dental Clinic upholds extremely hygienic and exacting standards of sterilization.
The surgeries are being carried out using the most cutting-edge techniques, and the most up-to-date tools.
Surana Dental Clinic is one of the greatest and most trustworthy dental offices in Madhya Pradesh, not just in Indore, thanks to the confidence and trust of our patients.