Best Dental Hospital in Indore – Surana Dental Clinic
Selecting a dental hospital is a crucial choice that could greatly affect your oral health. With so many alternatives available, it can be daunting to make a perfect choice. While choosing a dental facility, there are a few crucial considerations to bear in mind. Surana Dental Clinic is the Best Dental Hospital in Indore with the following features.
Experience and Reputation
The reputation and experience of Surana, the Best Dental Hospital in Indore facility are two of the most important things to take into account while making your decision. It is a hospital with a solid local reputation and a lengthy history of offering high-quality dental care. Ask friends and family who have visited the hospital for treatment for referrals, or read internet reviews. It has employees and dentists with experience who are more likely to offer high-quality care and be prepared to tackle any potential dental problems.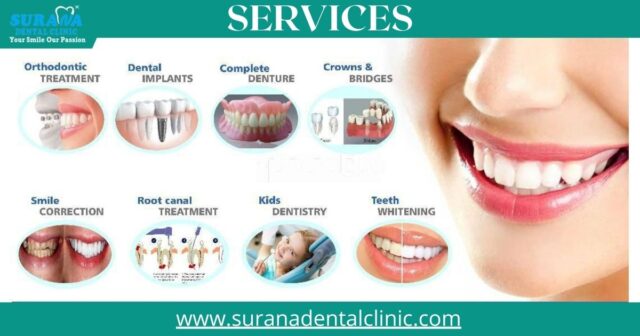 Services Provided
To satisfy your needs, Surana Dental Clinic is the only Dental Clinic in Indore, that provides a variety of services. It provides the services you need a.er taking your dental requirements into account. In order to ensure that you get the most cutting-edge and efficient care possible, Surana Dental Clinic in Indore offers cutting-edge technology and equipment.
Availability and Setting
The location and accessibility of Best Dental Hospital in Indore should both be taken into account. If you have mobility concerns or need to see a dentist frequently then Surana is nearby and simple to get to. It has easy parking or is close to a bus or other kind of public transportation.
Cleaning and hygiene
The cleanliness and hygienic conditions of a dental hospital are very important to take into account, especially in view of the ongoing COVID-19 pandemic. Surana Dental Clinic upholds stringent hygiene standards and a tidy, secure atmosphere.
Surana Dental Clinic, the Best Dental Hospital in Indore, can affect your oral health and general well-being. Consider variables like reputation and experience, services provided, location and accessibility, insurance and payment alternatives, and hygiene and cleanliness while making your choice. It provides a dental facility that satisfies your needs and offers you high-quality dental care by doing your homework and carefully weighing your options.
To read more articles click here:- https://suranadentalclinic.com/dental-blog/